Farm Land – Mothkur
Dear Members,
Update: As not many request – we are trying to renegotiate the prices. 31-Mar-2021
As discussed, we bring to you a good Farm Land Investment option. Please refer to links shared on same earlier.
cleandeed.com/proposed-farm-plots-malkaipet/
cleandeed.com/farm-plot-kalkaipet-and-residential-plot-pati-ghanpur/
Please join our Whatsapp Group for this Mothkur Farm Land Project for clarifications – by clicking this link
Google Location of the Proposed Farm Land Project – Click
Details of the Farm Land Project
40 Acres Placed 88km to Narsingi, 45Km to Shadnagar, 80km to Shamshabad Airport, we are working on 28 Acres of Land. 70% payment made by a Lawyer to farmers. We have already verified with Local Sarpanch and elders in Village about the authenticity of the transaction. You can hover on the image below to learn more about the Proposed Farm Land.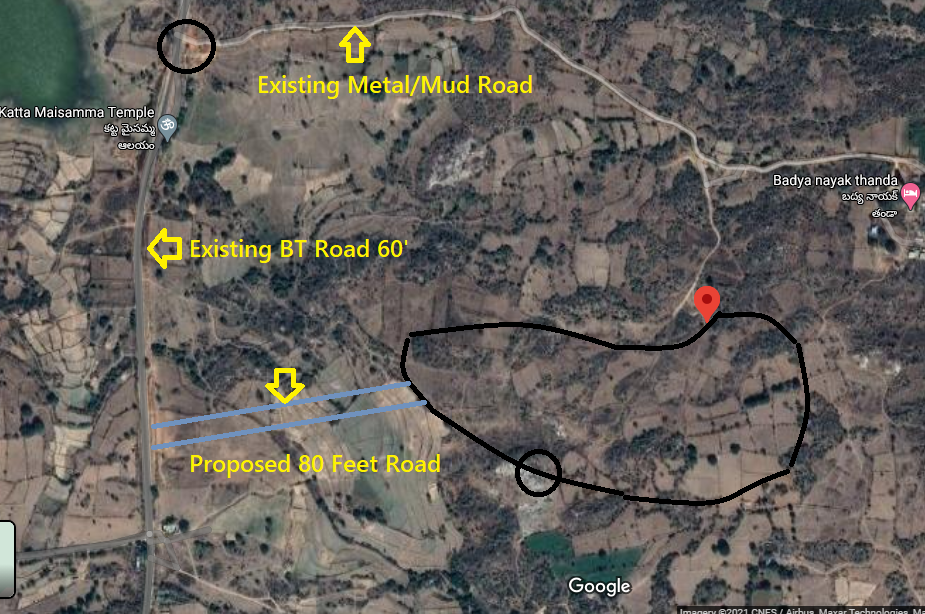 Proposed Road
Once we acquire the 40 Acres, we will also try to acquire the 80 feet road minimum which enhance the Property. Even if does not work out, we still have access through the existing 40 feet road.
High Point on Rock Slab
This place is highest elevation in the land and has a beautiful view. Probably we will have seating and bon fire placement.
Higher Plane
Higher Plane of the land and will have good view Cottages f going for development.
Lower Plane
Will be allocated to members who prefer to leave the land undeveloped.
Location Pictures
Process, Pricing and Timelines.
Please fill your intent below if you agreeing to the above and to deposit 25k INR with CleanDeed to initiate the transaction – only after confirmation from CleanDeed that we have enough intents to proceed.