Group Project – Investment
As requested by members, Investment option for Members to get Apartment at 40% less than market price. Please note that this is purely investment mode.
Join Group for Discussion here
Location: to be updated by 23rd June'19 post prelim check.
We need atleast 50 members to start the Process for Project.
Minimum Investment of Rs.45 lakh.
Membership Fee of Rs.5000 to CleanDeed so that two parallel Legal Verification can be done for the Land along with coordination with HMDA /DTCP & RERA. Payment of membership fee to be made only after 50 members interested in the Project Plan.
After verification comes clean, Min Payment of 20% Investment amount to be made within 15 Days and rest within 60 days as per Payment Schedule.
Payment Schedules are below: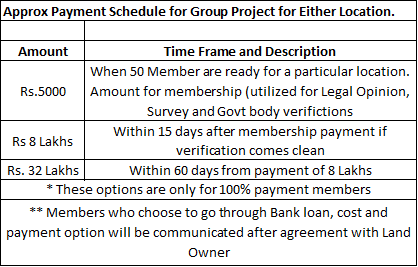 Please fill the form below only if you are ready to pay Rs.5000 to CleanDeed for membership fee after there are 50 members in the Group.